Nieuws
Galerienieuws / Gallery News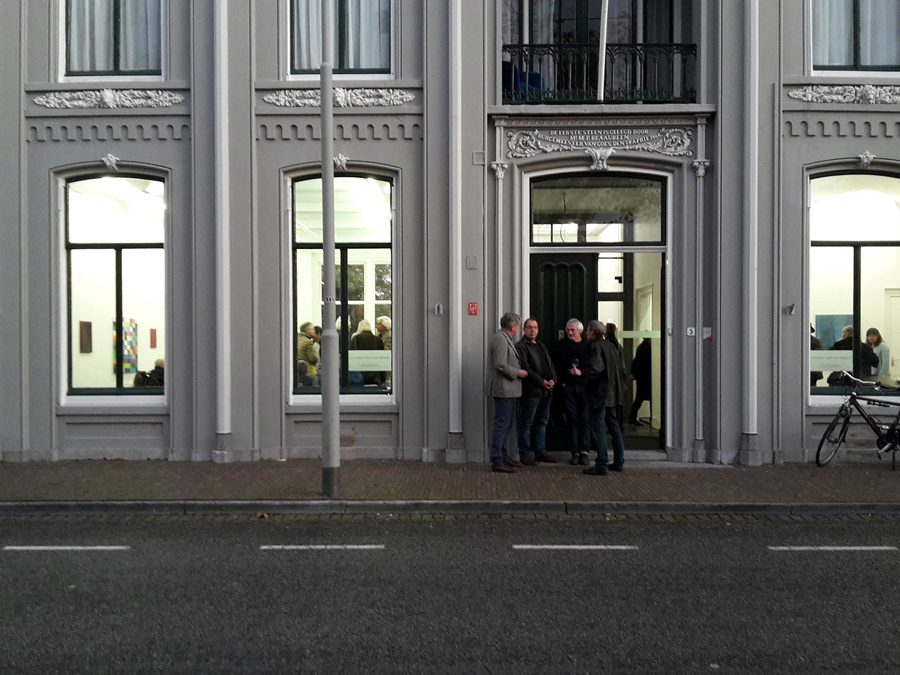 Nu in de galerie / Current
Binnenkort / Upcoming
Overig nieuws / Other news
Elders (presentaties van onze kunstenaars buiten de galerie) / Elsewhere (our artists on other locations)


Nu / Current
De galerie is geloten t/m 6 maart / The gallery is closed until March 6
BINNENKORT / UPCOMING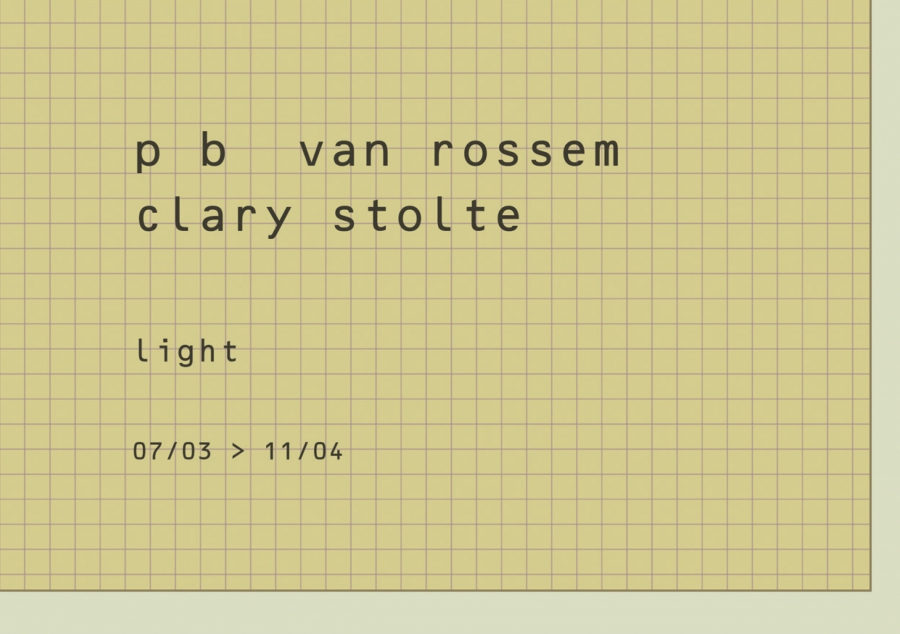 'light'
P. B. Van Rossem (BE)
Clary Stolte (NL)
07/03 > 11/04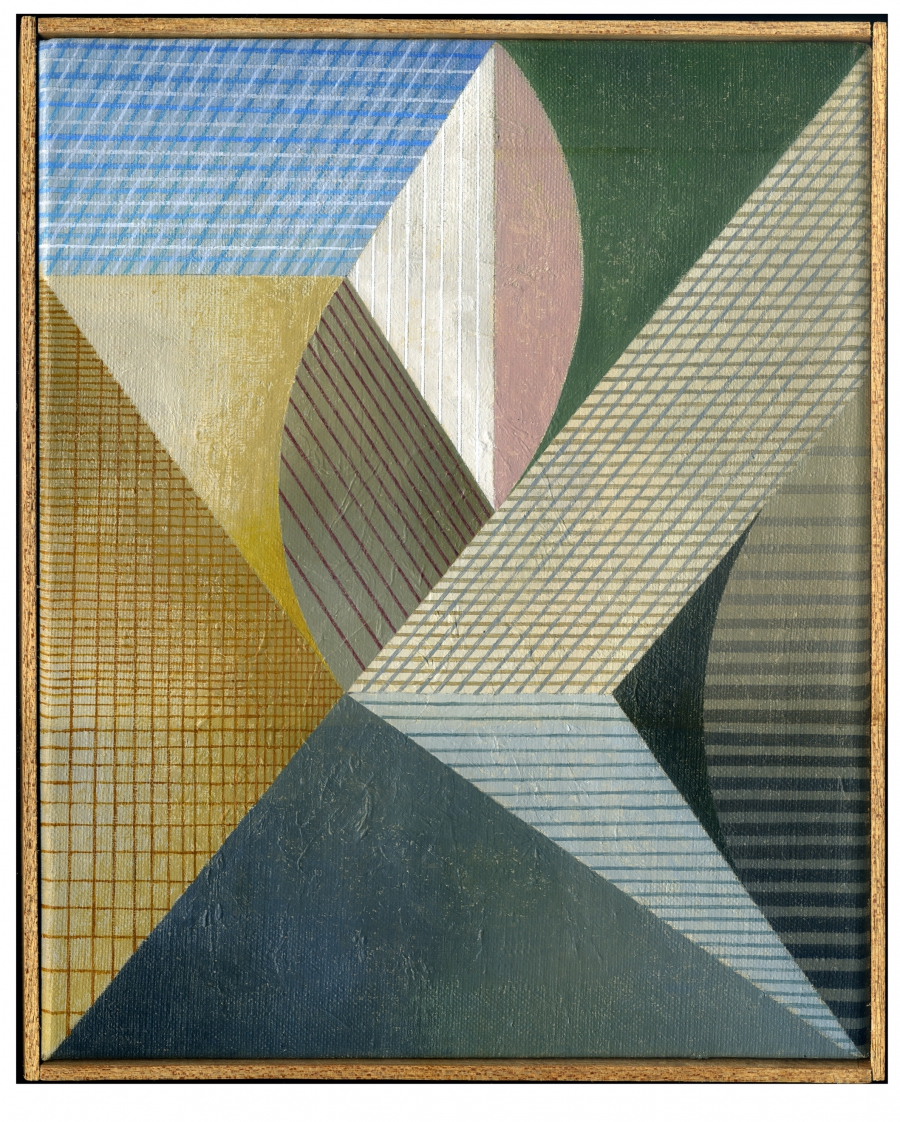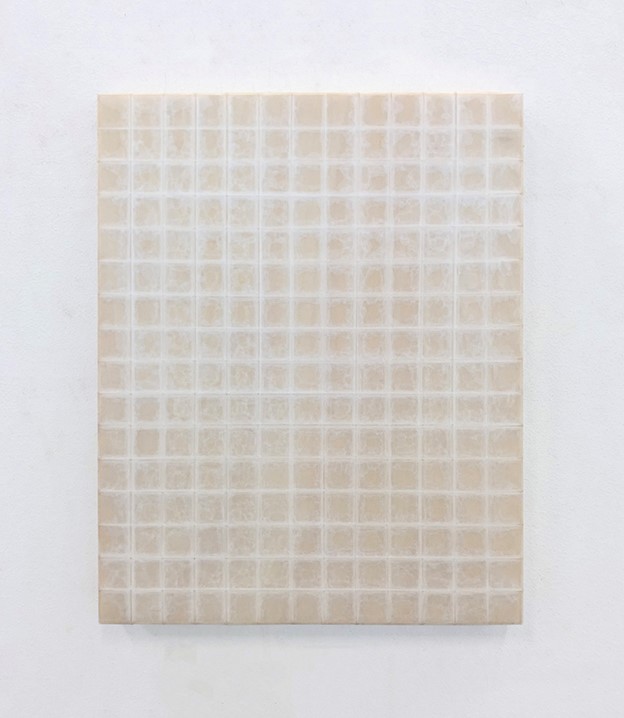 P.B. Van Rossem Clary Stolte
Zonder titel (2020) 'Variatie op Transparantie dichtheid' (2018)
Olieverf op doek, 30 x 24 cm Invisible tape op houten paneel, 30 x 24 cm

Opening:
Zaterdag 7 maart, 15.00 - 18.00 uur
U bent van harte welkom!
Saturday, March 7, 15.00 - 18.00 hrs.
You are cordially invited!


Overig nieuws / Other news

De online catalogus van Art Rotterdam staat nog op Gallery Viewer.
The Art Rotterdam online catalogue is still on view on Gallery Viewer.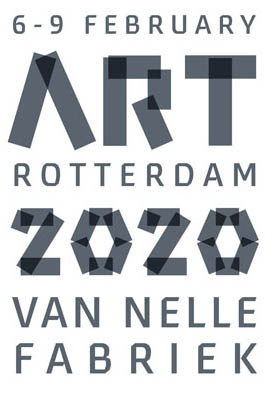 Art Rotterdam 2020 Official fair catalogue
MOMENTUM - Tamara Dees
In het kader van de collectietentoonstelling 'Momentum' toont museum Voorlinden in de schatkamer een selectie werken van Tamara Dees. De tentoonstelling bevat werk dat onlangs bij ons is aangekocht, eerder verworven werken uit de collectie van het museum en werken verkregen uit een schenking. Het beeld 'Monument' is door de galerie en de kunstenaar in bruikleen gegeven voor de presentatie.
As part of the 'Momentum' collection exhibition, the Voorlinden museum displays a selection of works by Tamara Dees in the treasure room. The exhibition contains work recently purchased from us, previously acquired works from the museum's collection and works obtained from a donation. The work 'Monument' was given on loan by the gallery and the artist for the presentation.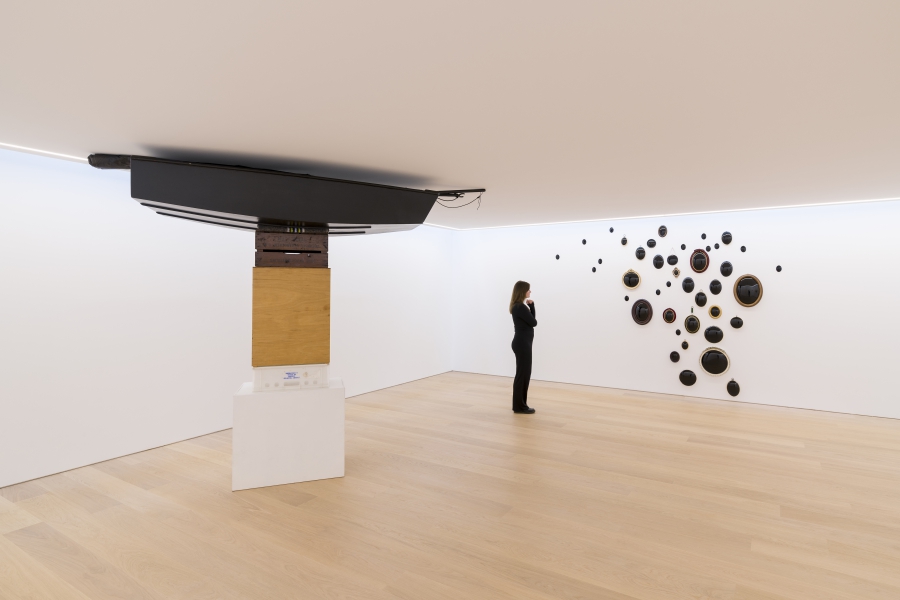 Presentatie Tamara Dees in de schatkamer van Museum Voorlinden.
Links/Left: 'Monument', - Rechts/Right: 'Momentum # 2'
Photo: Museum Voorlinden
Zie/ See: https://www.voorlinden.nl/bezoek/tentoonstellingen/
INTERVIEW in DEEDS - Shawn Stipling
DEEDS.WORLD - Artists in dialogue by artatberlin.com
Zie / See: https://www.deeds.world/the-interview-indeeds-shawn-stipling/?lang=en

POLDERSTEEN - Paul Gees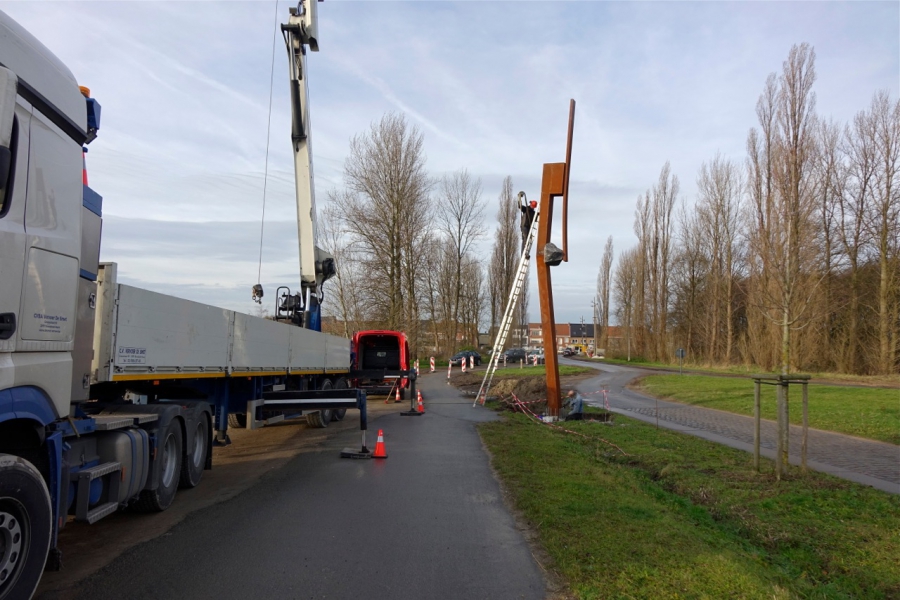 Op zondag 19 januari om is op de Scheldelei, 9150 Kruibeke (BE) het beeld 'Poldersteen' van Paul Gees ingehuldigd.
Het beeld (Cortenstaal en steen, 1000 x 100 x 110 cm, gewicht: 3250 kg) is het derde werk dat het Polderbestuur schenkt aan de gemeente Kruibeke en markeert de derde toegangsweg tot de polders van Kruibeke.

On Sunday 19 January at the Scheldelei, 9150 Kruibeke (BE), the statue 'Poldersteen' by Paul Gees was inaugurated.
The sculpture (Corten steel and stone, 1000 x 100 x 110 cm, weight: 3250 kg) is the third work that the Polder Board donates to the municipality of Kruibeke and marks the third access road to the polders of Kruibeke.
DEUTSCHER LICHTKUNSTPREIS 2020 - Jan van Munster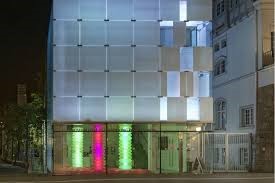 (Persbericht)
"Jan van Munster ontvangt de Duitse Light Art Award 2020.
Met deze prijs eert de Robert Simon Art Foundation de internationaal succesvolle Nederlandse kunstenaar voor zijn levenswerk.
Jan van Munster is de vierde kunstenaar die de prijs van € 10.000 ontvangt.
De German Light Art Award wordt om de twee jaar uitgereikt in het Kunstmuseum Celle (DE).
Eerdere winnaars in 2014 waren Otto Piene (US / DE), 2016 Mischa Kuball (DE) en 2018 Brigitte Kowanz (AUS).
De feestelijke uitreiking van de German Light Art Award vond plaats op 19 januari 2020 in het Kunstmuseum Celle, waar werk van Van Munster nu te zien is in een solotentoonstelling.
Het museum werd in 1998 opgericht als een 24-uurs kunstmuseum.
Het herbergt een van de meest uitgebreide museumcollecties van hedendaagse lichtkunst in Duitsland".
DEUTSCHER LICHTKUNSTPREIS 2020
(Press release)
"Jan van Munster receives the German Light Art Award 2020.
With this prize the Robert Simon Art Foundation honors the internationally successful Dutch artist for his life's work.
Jan van Munster is the fourth artist to receive the € 10,000 prize.
The German Light Art Award is presented every two years in the Kunstmuseum Celle (DE).
Previous winners in 2014 were Otto Piene (US / DE), 2016 Mischa Kuball (DE) and 2018 Brigitte Kowanz (AUS).
The festive presentation of the German Light Art Award took place on 19 January 2020 at the Kunstmuseum Celle, where work by Van Munster is now on display in a solo exhibition.
The museum was established in 1998 as a 24-hour art museum.
It houses one of the most extensive museum collections of contemporary light art in Germany".
SPOTLIGHT
Een knop op de menubalk van onze website/ A button on the menu bar of our website
Meerdere keren per maand belichten wij één kunstwerk op de pagina spotlight.
Naast de afbeelding en de prijs geven we ook informatie over het werk en de kunstenaar.
Met de contact button kunt u uw contact opnemen met de galerie en/of het werk reserveren.

In spotlight we highlight one artwork, several times a month
In addition to the image and the price, we provide information about the work and the artist.
With the contact button you can contact the gallery and/or reserve the work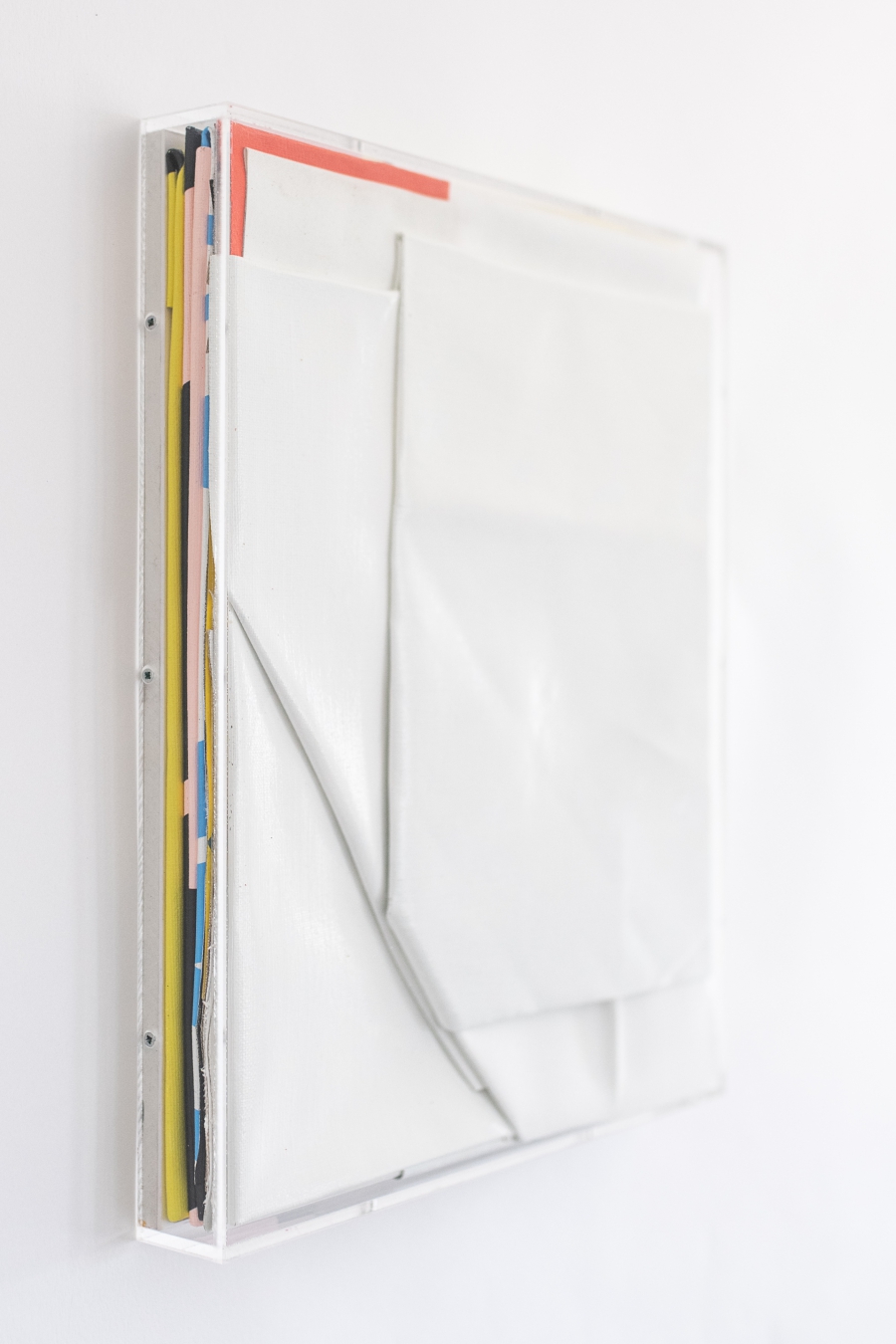 Nu in / now in 'Spotlight' : Harry Markusse - Stacked painting # 3

GOED NIEUWS VOOR KUNSTKOPERS, KUNSTENAARS EN GALERIES
Er is een samenwerkingspartner voor de KunstKoop gevonden: Santander Consumer Finance Benelux!
Met deze kredietverstrekker kan het Mondriaan Fonds de KunstKoop voortzetten en kunnen de aangesloten galeries de regeling blijven aanbieden aan hun klanten. De afgelopen maanden heeft het Mondriaan Fonds hard gezocht naar een nieuwe financiële partner voor de KunstKoop en we zijn erg blij dat we deze samenwerking tot stand hebben kunnen brengen.
Santander Consumer Finance Benelux is een consumentenfinancieringsbedrijf dat onderdeel is van Santander Group. Het is een van de grootste financiële instellingen in Europa, met aanwezigheid in vijftien landen en een focus op consumptieve kredieten. Deze expertise sluit goed aan bij de KunstKoop, dat ook een vorm van consumptief krediet is. (bron: Mondriaan Fonds 30/01/2020).
Meer informatie volgt spoedig.
U KUNT NOG T/M 29 FEBRUARI 2020 GEBRUIK MAKEN VAN DE HUIDIGE KUNSTKOOP VIA DE ABN/AMRO BANK
De ABN/Amro bank heeft de samenwerking met het Mondriaan Fonds opgezegd omdat de KunstKoop "niet past in het beleid dat zij de komende jaren zal voeren". Per 1 april 2020 wordt de regeling beëindigd.
Tot en met 29 februari 2020 kunnen er nog aanvragen bij de ABN/Amro worden ingediend.
Vanaf 1 januari 2020 is de maximale looptijd 2 jaar (i.p.v. 3 jaar), bestaande regelingen lopen gewoon door.
VOLG DE GALERIE OP GALLERY VIEWER
FOLLOW OUR GALLERY ON GALLERY VIEWER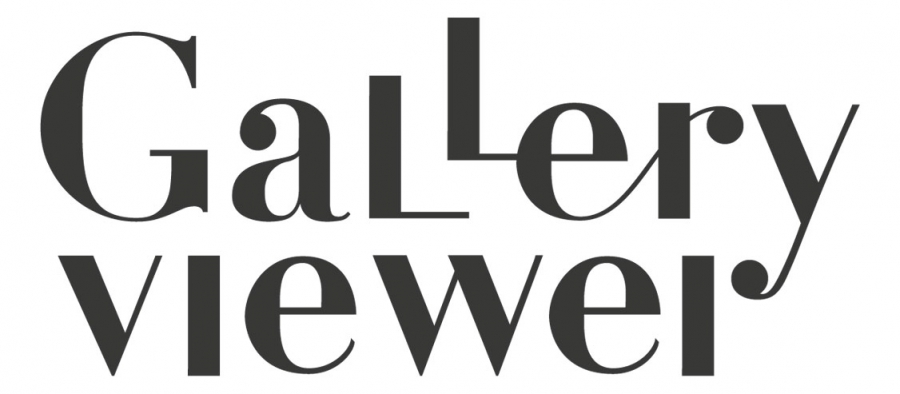 GalleryViewer

Gallery Viewer is het online kunstplatform, waarop kunstcollecties van toonaangevende galeries in Nederland te bezichtigen zijn.
Via Gallery Viewer kunnen kunstliefhebbers eenvoudig tussen 5000+ beschikbare kunstwerken op zoek naar hun favoriete galeries, kunstenaars en kunstwerken. Op Gallery Viewer is informatie te vinden over kunstenaars en kunstwerken, nieuwe galerietentoonstellingen en artikelen over de kunstsector.
Gallery Viewer biedt op deze manier een compleet beeld van wat er in Nederland aan hedendaagse kunst wordt aangeboden.
Gallery Viewer is het platform om nieuwe kunst te ontdekken.
Alle getoonde kunstwerken op Gallery Viewer zijn te koop. Om de koopkeuze te vergemakkelijken is op Gallery Viewer bij ieder kunstwerk de prijsklasse vermeld.
Kunstliefhebbers kunnen via Gallery Viewer direct een afspraak maken met de betreffende galerie om de favoriete kunstwerken te bezichtigen en te kopen.
Gallery Viewer is the online art platform to discover available artworks from contemporary artists by leading galleries in the Netherlands. Via Gallery Viewer, art lovers can easily browse more then 5000+ available artworks and discover their favorite galleries, artists and works of art.
Gallery Viewer contains information about artists and works of art, new gallery exhibitions and articles about the art sector.
By doing this, Gallery Viewer offers a complete picture of all contemporary art is offered in the Netherlands.
All artworks shown on Gallery Viewer are for sale. In order to facilitate the choice of purchase, the price range is mentioned on Gallery Viewer for each work of art.
Art lovers can make an appointment directly with the gallery in question via Gallery Viewer to view and buy the favorite artworks.
Elders / Elsewhere
Presentaties van onze kunstenaars buiten de galerie / Our artists on other locations
Ingrid van der Hoeven (NL)
'about A woman'
Met/with: Guda Koster, Debbie Voerman, Hinke Schreuders, Netty van Osch, Astrid Moors, Maritsa van Luttikhuizen & Rolina Nell
Exhibition, Events & Round table discussions
Art Space Rotterdam
Info: www.aboutAwoman.nl & www.rotterdamgallery.nl
07/03 > 22/03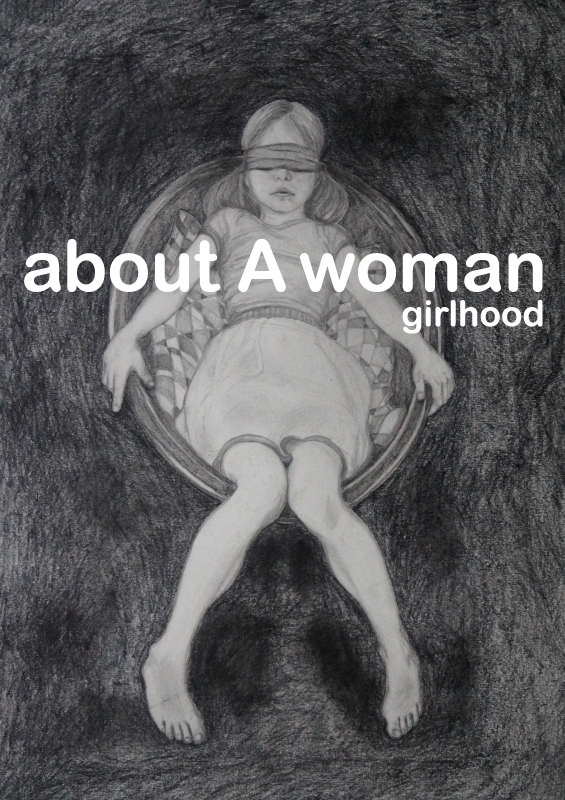 Tamara Dees (NL)
'Momentum'
In het kader van de collectietentoonstelling Momentum toont museum Voorlinden in de schatkamer een selectie werken van Tamara Dees (1971). Tamara groeide op in het Zeelandse Terneuzen in een familie van scheepsbouwers- en vaarders. Als klein meisje liep ze langs de kade, opkijkend naar de schepen die aan wal lagen en boven haar uit torenden. Hier werd de kiem gelegd voor de fascinatie voor de eindeloos uitstrekkende zeeën en enorme schepen, voor klein zijn in een grote wereld. Wie de zee op gaat, wordt zich ervan bewust hoe groot de wereld is en hoe nietig wij als mens zijn. (tekst: Museum Voorlinden, Wassenaar).
De schatkamer is toegankelijk op afspraak en tijdens rondleidingen.

As part of the Momentum collection exhibition, the Voorlinden museum displays a selection of works by Tamara Dees (1971) in the treasure room. Tamara grew up in Terneuzen in Zeeland in a family of shipbuilders and sailors. As a little girl, she walked along the quay, looking up at the ships that lay ashore and towered above her. Here the seed was laid for the fascination for the endlessly expansive seas and huge ships, for being small in a big world. Whoever goes out into the sea becomes aware of how big the world is and how insignificant we are as human beings. (text: Museum Voorlinden, Wassenaar)
The treasure room is accessible by appointment and during guided tours.
Tekst en foto / text and image: Museum Voorlinden, Wassenaar
Museum Voorlinden, Wassenaar (NL)
24/01 > 03/05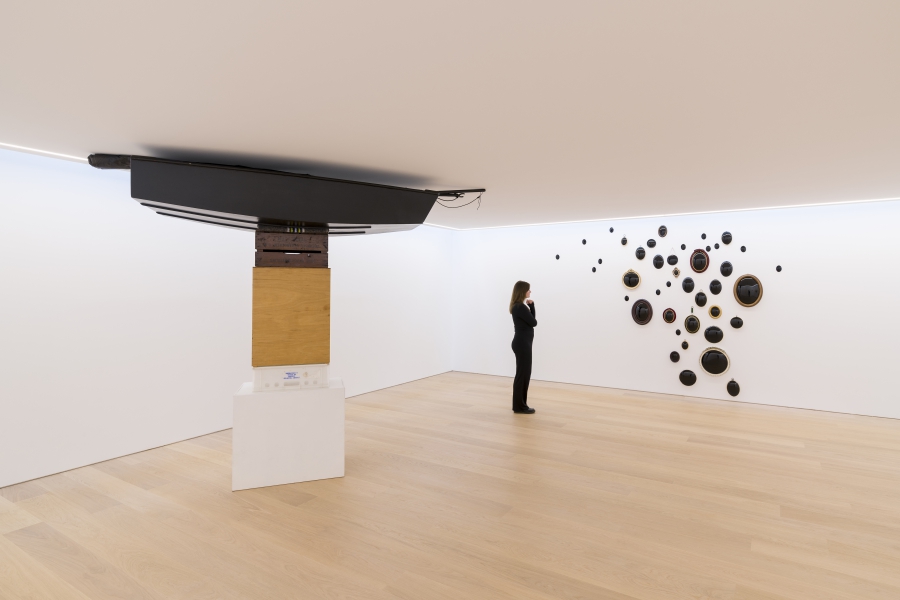 Frank Halmans (NL)
'Dichbij'
Met/with Hlide Walraven, Ton Zwerver, Theo Schepens, pietsjanke fokkema & Annemarie Nibbering
De Vishal, Haarlem (NL)
14/02 > 15/03.

Shawn Stipling (UK)
'Varying Ideas Of Almost'
Solo show
Galerie Pugliese Levi (Berlijn)
11/01 > 22/02
Clary Stolte (NL)
DepARTment Store - 75 jaar beeldende kunst in het museum
Een dwarsdoosnede van de vaste collectie
Om de sfeer van het voormalige warenhuis op te roepen en bezoekers in staat te stellen om ook daadwerkelijk kunst in het
museum te kopen werden 10 kunstenaars uitgenodigd om een multiple of werk in oplage te maken.
A cross box section of the permanent collection
To evoke the atmosphere of the former department store and to enable visitors to actually buy art in the museum
10 artists were invited to make a multiple or edition
Multiples/Editions:
Maria Barnas, Romy Finke, Christie van der Haak, Thomas Raat, Tanja Ritterbex,
Marjolein Rothman, Charlotte Schleiffert, Han Schuil, Clary Stolte, Esther Tielemans
SCHUNCK, Bongerd 18, 6411 JM Heerlen (NL)
12/10/2019 > 15/03/2020