Nu
NU

/ CURRENT
Galerie gesloten t/m woensdag 21 april / Closed until April 21

Binnenkort / Upcoming
22/04 > 24/04
'A one weekend show'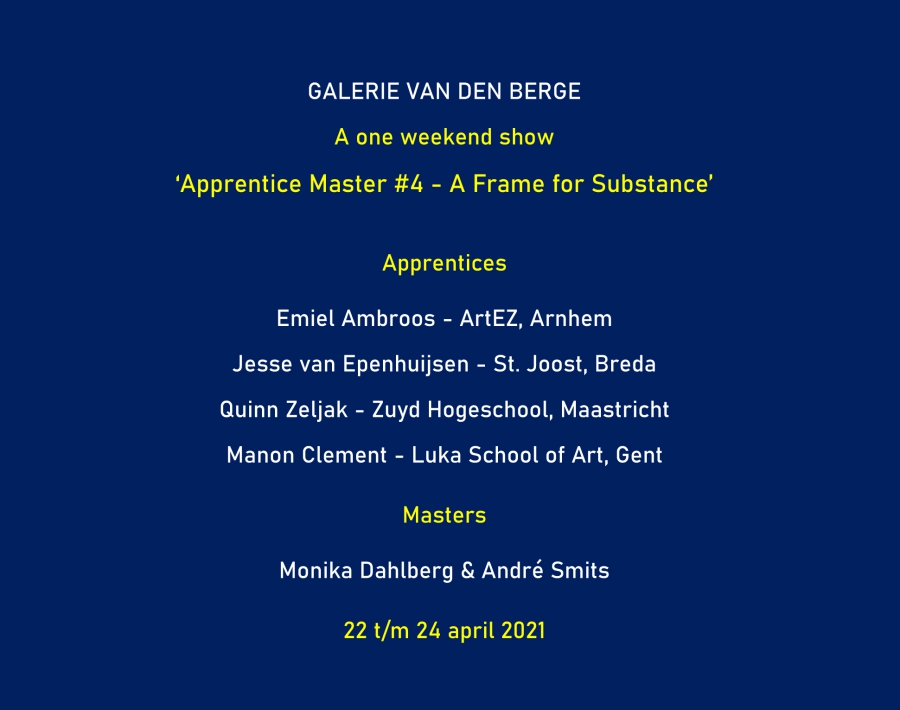 Apprentice Master # 4 - 'A Frame for Substance'
Apprentices:
Emiel Ambroos - ArtEZ, Arnhem
Jesse van Epenhuijsen - St. Joost, Breda
Quin Zeljak - Zuyd Hogeschool, Maastricht
Manon Clement - Luka School of Art, Gent
Masters:
Monika Dahlberg & André Smits

Na een werkperiode in de kunstwerkplaats van Monika Dahlberg en André Smits, M_M_Artspace (Kattendijke, Zld) exposeren de vier apprentices samen met de masters van donderdag 22 t/m zaterdag 24 april in Galerie van den Berge.
De 'A one weekend show' is op afspraak te bezoeken.
► Vanwege de korte looptijd van de presentatie zijn de openingstijden verruimt.
Tiijdsloten: [11.00 - 12.00] - [12.00 - 13.00] - [13.00 - 14.00] - [14.00 - 15.00] - [15.00 - 16.00] - [16.00 - 17.00]

After a working period in the studio/workshop of Monika Dahlberg and André Smits, M_M_Artspace (Kattendijke, Zld), the four apprentices will be exhibiting together with the masters from Thursday 22 to Saturday 24 April in Galerie van den Berge.
The 'A one weekend show' can be visited by appointment.
► Due to the short duration of the presentation, opening hours have been extended.
Time slots: [11 AM - Noon] - [Noon - 1 PM] - [1 PM - 2 PM] - [2 PM - 3 PM] - [3 PM - 4 PM] - [4 PM - 5 PM]
Boek uw tijdslot / book your timeslot: galerievandenberge.nl/contact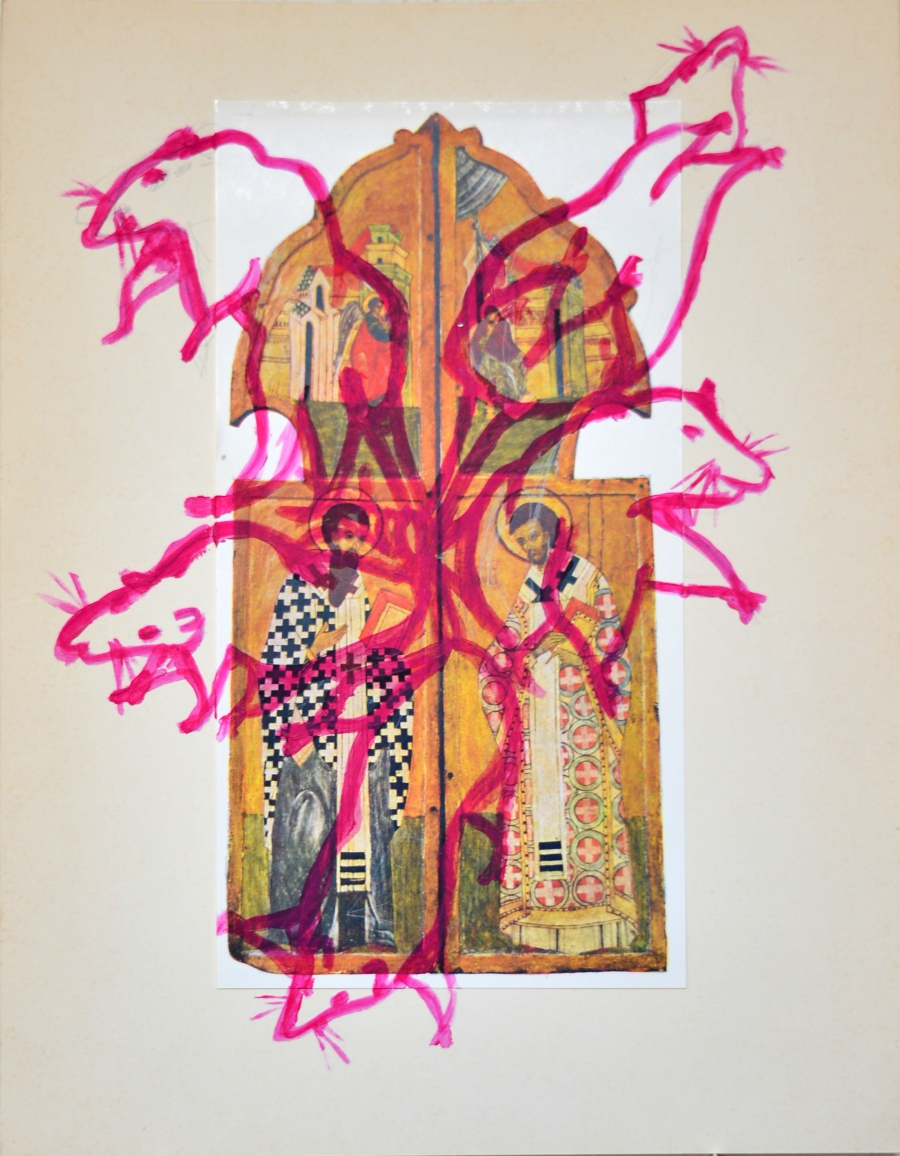 Quinn Zeljak
'Rat King' (2020)
Mixed media collage,30 x 23,5 cm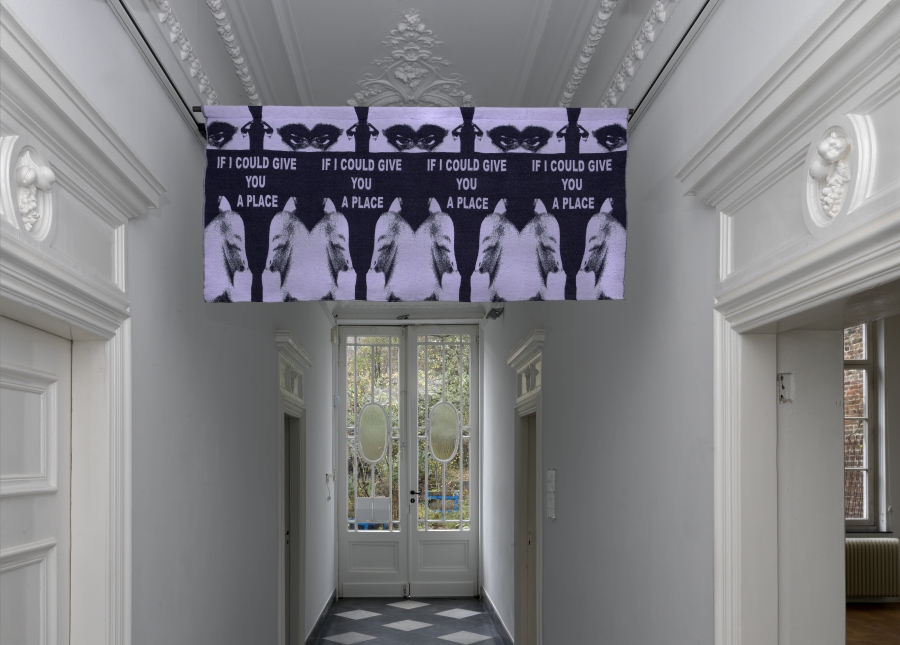 Manon Clement
'If I could give you a place' (2020)
Geweven op jacquard. materiaal: polyester en acryl, woven on jacquard. material:polyester and acrylic, 40 x 150 cm
Photo: Gert-Jan van Rooij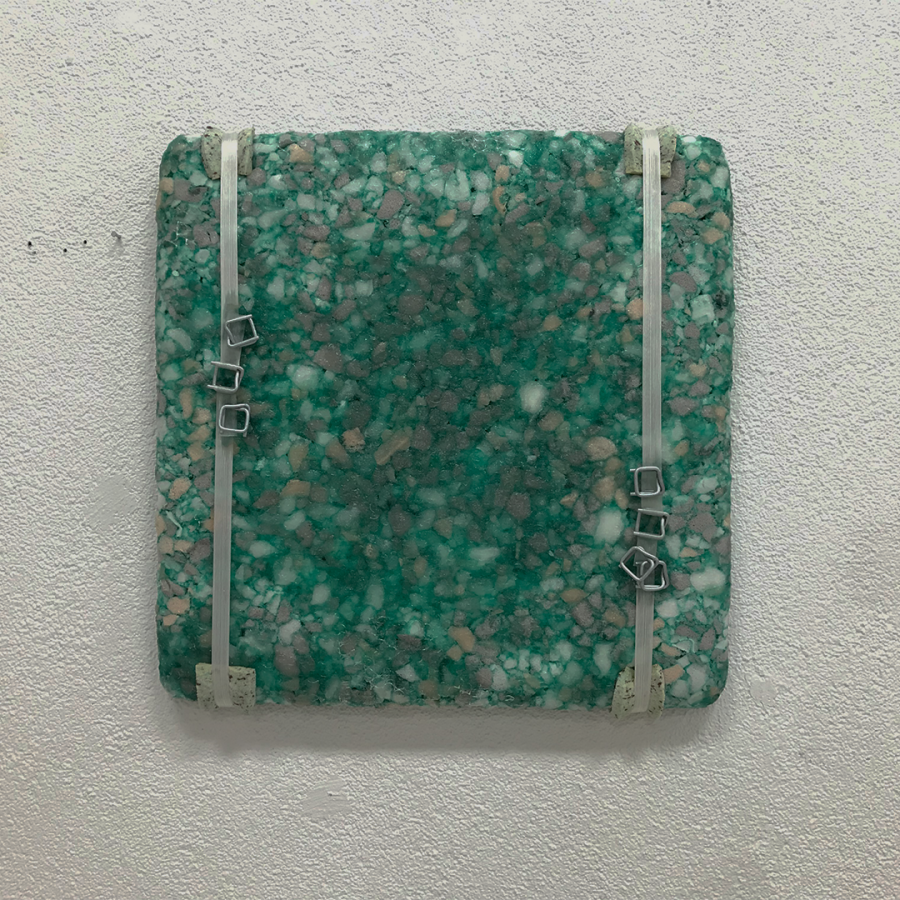 Jesse van Epenhuijzen
'Klankplaat 1' (2021)
Epoxy, isolatiefoam, betonplex / epoxy, insulation foam, concrete plywood, 50 x 50 cm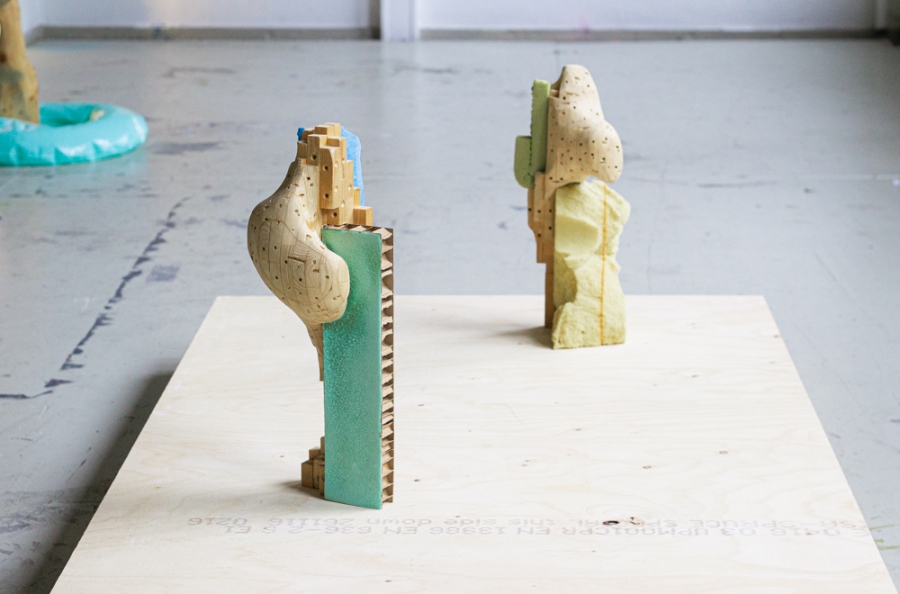 Emiel Ambroos
'Beyond private equities and plastic palm trees' (2020)
Hout, schuim, exotisch fineer, karton (gevonden materialen) / wood, foams, exotic veneer, cardboard (Found materials)
Links / left: 34 x 15 x 11 cm
Rechts / right: 29 x 13 x 12 cm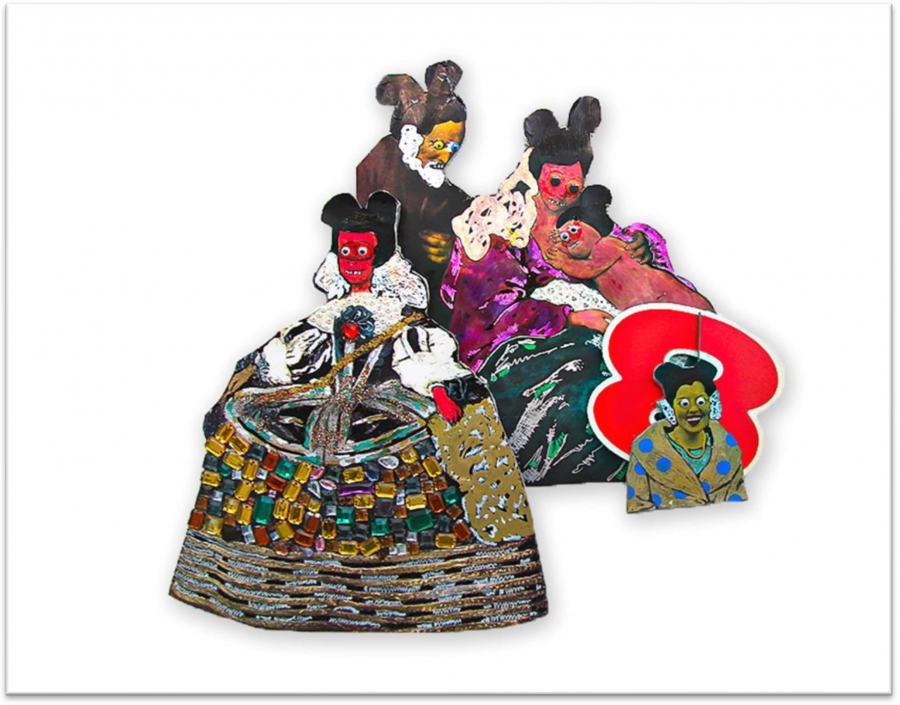 Monika Dahlberg
'A smile means friendship for everyone' (2020)
Collage (ingelijst / framed), 60 x 53 cm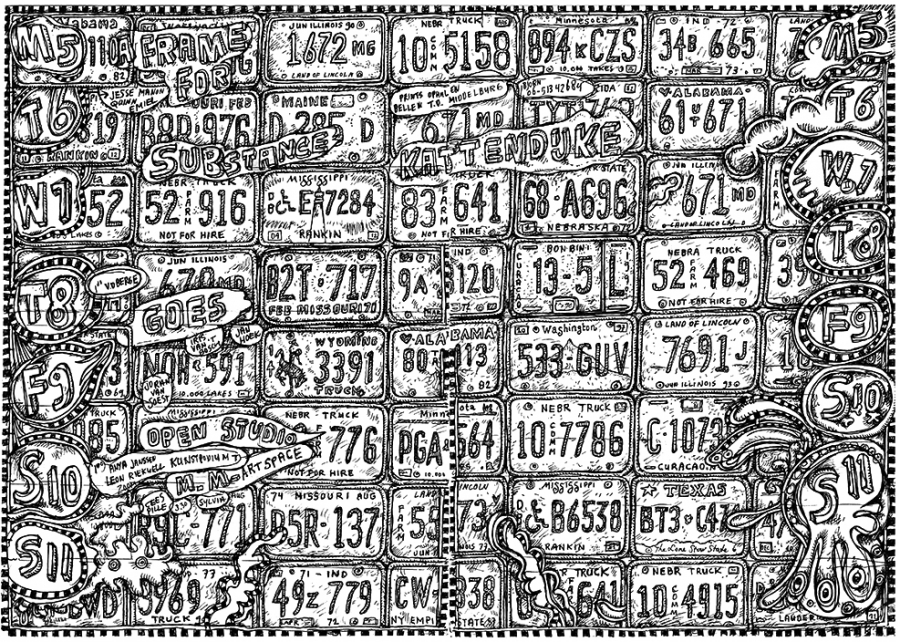 André Smits
ARTISTINTHEWORLD playlist edition (05-11/04/2021) - ED 11
Tekening, geprint op Rough Texture (gesigneerd en ingelijst) / drawing, printed on Rough Texure (signed and framed), app.. 25 x 35 cm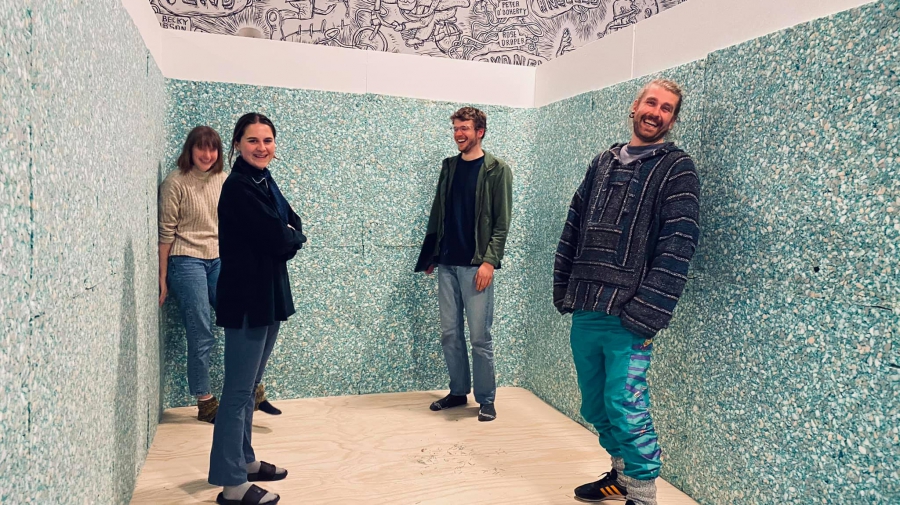 M_M_Artspace: v.l.n.r.:Quin Zeljak, Manon Clement, Jesse van Epenhuijsen, Emiel Ambroos
Photo: André Smits / artistintheworld.com
Apprentice Master
'Apprentice Master' is een project van Kunstpodium T (Tilburg) waarin net afgestudeerde kunstenaars samen met gerenommeerde kunstenaars een uitwisselingstraject van één jaar ingaan. Ze komen regelmatig samen en wisselen ideeën en ervaringen uit.
Deze samenwerking tussen Apprentices en Masters resulteert uiteindelijk in exposities die voor publiek te bezoeken zijn.
Deze vinden plaats bij Kunstpodium T of op een van de gastlocaties.
'Apprentice Master' is a project by Kunstpodium T (Tilburg - NL) in which recently graduated artists, together with renowned artists, embark on a one-year exchange process. They meet regularly and exchange ideas and experiences. This collaboration between Apprentices and Masters ultimately results in exhibitions that can be visited by the public. These take place at Kunstpodium T or at one of the guest locations.